Honey Moon Package

Haydrabad
Goa, Mahabaleswar
Matheran
Kashmir (Paradise Of Earth)
Simla- Kulu- Manali
Benglore - Mysoor - Uti
Kodaicanal
Special Keral
Special Features of Honey Moon Package
| | | |
| --- | --- | --- |
| | | Luxary, Semi Lluxary, three star Hotels |
| | | Pick up & drop service with Luxary buses from Hotel |
| | | Decorated Bed with Flower Arrangement |
| | | Best Food Quality |

Bus Service

3x2 50 sitter luxary and semi luxary also ordianry sits
2x2 50 sitter video coach & semi luxary buses
50 sitter A/C Volvo
2x2 35 sitter video coach & Luxary buses (broad sits)
2x2 27 sitter video coach & Luxary mini buses
2x2 19 sitter video coach & Luxary A/C buses
2x1 17 sitter A/C non A/C tempo traveller mini buses
2x1 14 sitter tempo traveller mini buses (high back seats)

Car Services
Primium Cars - Scoda, Lanser, Innova, Esteem, Ballero, Scorpio
Cars - Sumo, Indica, Qualis, Tavera
Car services for local and out station
Car hire on Monthly Basis/ Contract Basis for Companies.
Speshalist in Cash Van, Bank Services, Excutive.
Other Services
Educational trip- Melghat tiger project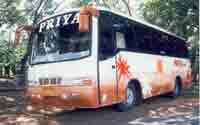 Bus Boking Services

Hydrabad, Surat, Belgaum, Banglore, Kolhapur, Mumbai
Mumbai Airport pickup and drop service

Maharashtra Darshan
Kokan Darshan (5 days)
Mini Kokan (3 days)
Shriwardhan, Murud- janjira, Raigad Roapway (3 days)
Ganpatipule, Pawas, Hedvi, Deravan, Velneshwar, Guhagar (3 days)
Pandharpur, Tuljapur, Gangapur, Akkalcaot, Gondavale (3 days)
Shgaon, Mahurgad, Aundhaya Nagnath, Parali vaijayanath, Gruneshwar (3 days)
Trips for two days
Ashtavinayak
Nashik, Trambakeshwar, Vani
Tuljapur, Gangapur, Akkalcaot
Gangapur, Akkalcaot
Kolhapur, Jotiba, Panhala
Aurangabad, Ajintha-Verul, Daulatabad, Paithan
Mumbai Darshan - Essal world by Expressway
Raigad Roapway
Alibag, Kihim, Murud-Janjira, Pali, Mahad
Shivatharghal, DiveAgar, Shriwardhan, Harihareshwar
Wai, Panchgani, Mahabaleshwar, Pratapgad, Tapola.
Wai, Mahabaleshwar, Ganpatipule, Marleshwar-Derwan
Simala - Kulu Manali (WIth Chandigadh - Delhi )
Trip Period 11 Days
Chandigadh -SUkhana Lake, Rock Garden, Pinjor Garden
SImala - Jakku Hill ,China Pik
Manali - Vasistha Spring , Mount tenaring Instititue , Rohatangpass , Hardiba Mandir.
Kulu - Manikaran , Gurudwra,Hot water String , Delhi ,Kutubmina, Lalkilla, Trimurti bhavan, Raj Ghat, Lotas tempal.
Himachal
Trip Period 16 Days

Chandigadh - Pinjor Garden,Parwnu Rop Way.
SImala - Hill Station,Kufri, mal road.
Manali - HIndiba temple,Neharu mountenring Institue,Snow pite,
Manikaran - Hot water String
Dalhusi - Khajjyar,Shubhsbolii,Satdhara.
Amrutsar - Wagha Border, Jalinwala Baug,Suvana Mandir Katara, Vaisnomata Mandir.
Dallhusi Amrutsar - Vaishnodevi
Trip Period 9 Days
Dallhusi - Hill Station
Khajiyar lake - This place Called by Gulmarg,Panchpula,SUbhas bawali,Satdhara.
Amrutsar - places of Sikh pilgrimage,
Wagha Border,Suvana Mandir,Jaliyanbaug.
Vaisnomata Mandir - Mahalaxmi,Mahakali,Maha Saraswati Devi MAndir.
Darjiling - Sikkim - Kolkata - Puri - Bhuwaneshwar
Trip Period 16 Days
Darjiling - TIger Hill, sanctuary,Hill Station,Himalay Mountniring Institute,Tea Frams,
MIrik Lake - HImalayas Butiful Pites, Attractive Lakes,
Sikkim Gangatek - Capital Of Sikkim,Tasi view Point,Flower SHow,Kanchan Ganga,Changu Lakr.
Kolkata - Belurmath,Klaimata mandir,Hawara Bridge,Metro train,Victoriya Meomorial
Jagnattha Puri - Jagnattha Puri Mandir.
Bhuwaneshwar - Lingraj,Kedargauri,Mukteshwar,Siddeshwar,
Bhunandvan Kashmir
Trip Period 12 Days
Shrinagar- Dal lake, Shalimar- Mughal Garden, Char MInar, Floring Garden, Shankaracharya Hill, Hajarat Bal
Pahelgaum
Gulmaeg (Golf Ground)
Songerg (Glosher point, Avantipur)
Vaishanav Devi (Mahakali, Maha saraswati, Mahalakshumi Temple)
Nepal Kathmandu Pokhara
Trip Period 12 Days
Varanasi - Vishwanath Temple
Pokhara - Devis Fall, Kalika Temple, Mahendra Caves, Sani River, Pokhara Lake
Manokamna Devi - Manokamna Devi - Roap way
Kathmandu- Pashupatinath, Royal Palas, Buddhas Stupa
Kashi - Gaya - Prayag
Trip Period 11 Days
Alahabad- Prayagkeshtra, Trivenisangam, Akshwat, Anandbhuvan
Ayodhaya - Ram janma Bhumi, Sharau river Darshan, Hanuman Gadhi
Varanasi Kashi - Kashivishwar Temple, Tulsi ManasTemple, Kavdi Gau Bai
Gaya - Vishnu Temple
Buddha Gaya - Thai And Chinese Temple, Gautam Buddha, Phalgu River, BodhiVirksha
Nainital (Kausani Ranikhet - Delhi - Agra)
Trip Period 12 Days
Nainital - Lake, Nainital Temple, Bhimtal, Nawkuchiya Lake, Kausani
Raniketh - Kalika Temple, Golf Ground, Jim Carbet, National Park Delhi
Banglore- Mahisoor - Uti (Kodai Canal)
Trip Period 11 Days

Kodai, Uti, Mahisoor Chamunda Hills, Shirangapattanam, Vrindavan Garden, Shravan Belagola, Halebile, Bellur, Banglore, Basavanna Gudi

Shri Char Dham
Trip Period 16 Days

Hrishikesh, Dev Prayag, Nanda Prayag, Rudra Prayag, Gauri Kunda, Kedarnath, Karna Prayag, Vishnu Prayag, Badri NarayanUttar Kashi, Gangotri, Yamanotri, Haridwar
Agra Mathura Delhi Haridwar
Trip Period 11 Days
Agra, Mathura, Delhi, Haridwar, Hrishikesh, Masuri
Shri Shailya - Haidrabad Nagarjun (Ramoji FlimCity)
Trip Period 8 Days
Haydrabad- Charmina, Govalkonda, Salarjung Museum, Birla Temple, Husseing Sagar Lake, Zoo, Ramojj Film City, Nagarjun Sagar
Shri Shailya - Mallikarjun Swami & Bhramaramba Mata Temple,
Mini Rajasthan
Trip Period 11 Days
Mount Abu, Jain Mandir, Jaipur, Nathdwara, Udaypur, Eklingaji, Chittaud Gad, Ajmair, Pushkar Tirtha, Ranak Pur, etc